M Usman Mirza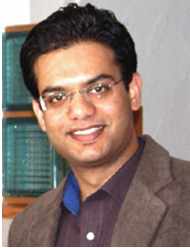 Usman's research interest lies in analysing resilience and critical transitions in complex systems related to society, environment and the economy. We live in a dynamic world, influenced by constraints and/or nonlinear forcing caused by, to name a few, the fragile environment we live in; finite natural resources we consume; economic trade-offs we make; political pressures we face. These external pressures can cause sudden changes or critical transitions in complex systems leading to, possibly, alternative stable states. By applying complexity theory, Usman aims to understand dynamics of the interrelated social, environmental and economic systems; and also design early warning signals, to provide policy insights into improving resilience.
Currently Usman is a PhD candidate and researcher, supervised by Marten Scheffer & Egbert Van Nes at Wageningen University and Research Centre in the Netherlands.
Usman is also an Early Stage Marie Skłodowska-Curie Researcher at CRITICS.